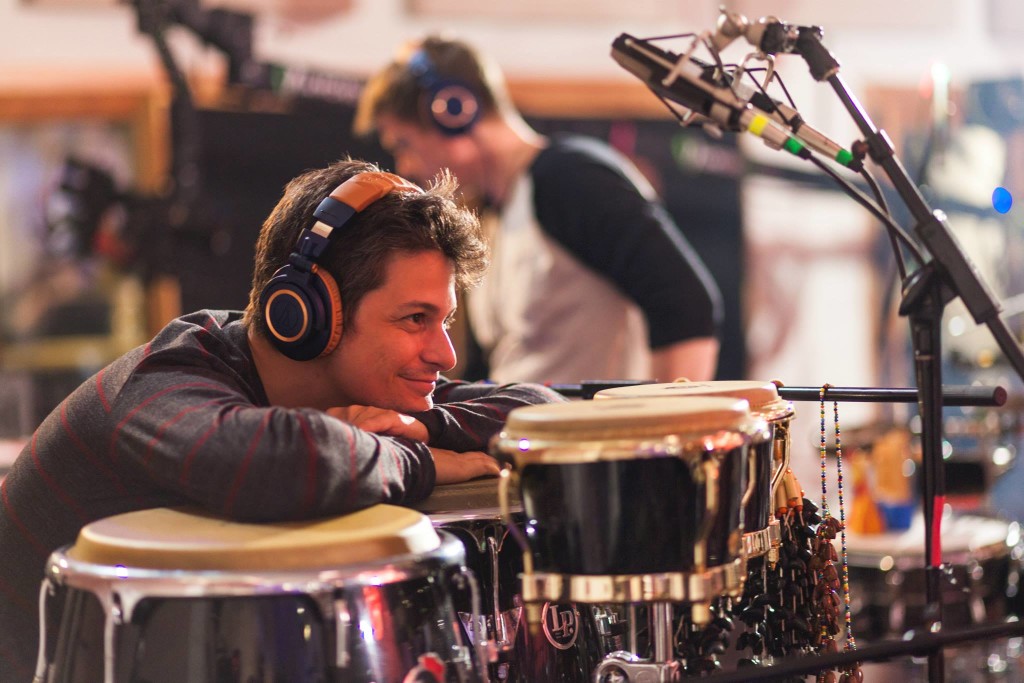 Born in Rio de Janeiro in 1984, Bernardo Aguiar was drawn to percussion even in his infancy, fascinated by the powerful rhythmic pulse of Rio's samba school drum batteries. At the early age of nine, he was already performing with the Samba School Unidos do Santa Marta, and regularly played with other Rio carnaval blocos through his teenage years.
At the age of thirteen, his professional career began performing with Pandemonium Orchestra – an ensemble consisting exclusively of pandeiros (Brazilian tambourine). His exceptional talent soon earned him the role of lead soloist, until he left the group in 2001. Notable highlights with Pandemonium Orchestra included performing at the "Prêmio Sharp" (Sharp Music Awards) in 1998, and in 2000 at PercPan, one of the most highly regarded percussion festivals in the world, directed by Gilberto Gil and Naná Vasconcelos. During his time with Pandemonium Orchestra, he had the opportunity to play alongside some of Brazil's biggest names in samba, including João Nogueira, Elza Soares, Nelson Sargento, and Wilson Moreira, and was introduced to Brazilian percussion masters Carlos Negreiros, Robertinho Silva, and Marcos Suzano.
At seventeen, he began recording and performing with renowned musicians in the Brazilian instrumental music scene such as Yamandú Costa, and the group Pife Muderno, led by multi-instrumentalist Carlos Malta, with whom he also worked with Lenine, Moraes Moreira, and Jacob Collier. Bernardo has since traveled with Pife Muderno throughout Brazil and around the world, including several European tours, a residency at University of Florida (Gainesville, FL) in 2006 where he taught courses in pandeiro and percussion, at Forbidden City Concert Hall (Beijing, China) in 2011, and alongside singer/songwriter Gilberto Gil at the legendary Carnegie Hall in New York in 2012.
In 2007, Bernardo was one of the invited international guests of the Copenhagen Jazz Festival in Denmark. This same year, he performed alongside bandolim virtuoso, Hamilton de Holanda, in the Manifesto Brasilianos project, which sought to feature the new generation of Brazilian instrumental music. With Hamilton and cellist Jaques Morelenbaum, he performed in 2009 at the Festival Tudo é Jazz ("Everything is Jazz Festival") in Ouro Preto in the state of Minas Gerais, Brazil. He also recorded on the XXXX(ano) album Casa de Villa for composer/guitarist Guinga, and traveled throughout Asia performing as a duo with guitarist Zé Paulo Becker in 2007.
In the pop music world, Bernardo has performed with the multi-Latin Grammy nominated Brazilian reggae/rock band, O Rappa, and recorded on two of their albums, Acústico MTV (2005) and 7 Vezes (2008). He was also invited to tour throughout the U.S. with legendary percussionist Sammy Figeroa in 2014, and recently accompanied singer Roberta Sá on her recent tour throughout Brazil.
In 2009, Bernardo joined percussionist Gabriel Policarpo to officially commence their music project, Pandeiro Repique Duo (PRD), bringing together two typical Brazilian instruments, the pandeiro and the repique, with the intention of transcending regional barriers to create a more universal sound. PRD soon began performing and giving workshops at festivals all around Brazil, Europe, Asia, the U.S., and South America. With his duo, Bernardo also facilitated master classes in various universities and conservatories such as The Juilliard School (New York, NY), Shenandoah University (Winchester, VA), University of Arts (Philadelphia, PA), City University London (U.K.) and Rytmisk Konservatorium (Copenhagen, Denmark), among others. The duo's self-titled debut album was released in 2012, featuring only pandeiros and repiques (and sometimes their voices), and included a bonus CD with the special participation of Yamandú Costa, Nicolas Krassik, Carlos Malta, Marcos Suzano, Mestre Ciça, and Tanzanian singer, Ashimba. In 2014, PRD traveled to Denmark to record a collaborative project called Strejf with Danish pianist, Carsten Kær, and French acoustic bassist, Brice Soniano.
In 2015, Bernardo was music producer for the acclaimed album by the Rio-based singer, Aline Paes. This same year he also participated in the feature documentary film "Xingu Cariri Caruaru Carioca," directed by Beth Formaggini, which follows Bernardo and Carlos Malta as they wander through the musical world of Brazilian pifano (fife) bands in search of the traditional sounds that serve as the inspiration for contemporary musical expression. Later that year, Bernardo was invited by the North American band, Snarky Puppy, to record on their DVD "Family Dinner 2," an ambitious project released in 2016 that includes the participation of Chris Turner, Charlie Hunter, Jeff Coffin, Salif Keita, and Susana Baca.
In 2016, Bernardo will launch his audiovisual project, "Universal Pandeiro," conceived together with filmmaker partner, Daniel Lôbo, that reveals music made with pandeiros around the world. Additionally, this year he will release his pandeiro method called "Pandeiro Moderno."